When you think of Sonitrol Pacific, what comes to mind? Warehouse security? Home security? While we do have many commercial and residential clients, government buildings are also a big part of what we do. Over the weekend, our fantastic operators helped police in Corbett, Ore. and Everett, Wash. catch a total of six suspected burglars at government facilities. Here's the scoop!
On Saturday, Mike received an alarm on the basement doors of a historic government-owned building near the Columbia River Gorge (pictured below). Through the site's audio verification panel he could hear banging followed by male and female voices and footsteps inside. He dispatched the Multnomah County Sheriff and notified the facility's emergency contact. Police officers arrived and took two people into custody.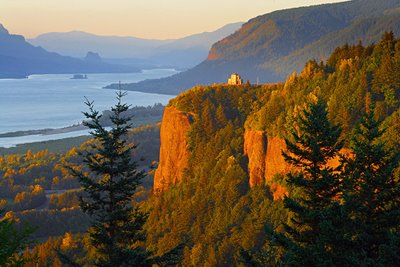 On Sunday morning at 7:30, Lora received alarms on doors at a public middle school in Everett. She did not hear any threatening audio and the site responder said that he would check on the school in about an hour. When Lora began hearing juvenile voices inside, she notified the responder. Things got more intense when Lora heard the juveniles discussing whether or not the school had an alarm system and one of the males said that the school was not technologically advanced enough to have one. Conversation turned to the topic of breaking a window, at which point Lora dispatched Everett PD and updated the site responder with the status of the call. The juveniles continued to talk about burglary and one male told another to put something in his backpack, which later turned out to be a computer movie projector. Lora heard the males address each other by name but did not get the names of the females. One male kept insisting that they wouldn't get caught. Officers arrived on site and took the female into custody and saw two males jump a fence behind the school. They were able to catch four people total and recovered the projector. The police didn't find any unsecured doors, but they did find an unlocked window that they believe was the entry point.
We take security systems for government facilities very seriously. Break-ins and vandalism at publicly owned places often put the burden of repair costs on tax-payers. By detecting criminal activity early and getting a fast police response, Sonitrol Pacific saves everyone money.